| Section | Syllabus |
| --- | --- |
| English - 1. Reading section & 2. Writing and Language section. | Vocabulary, Critical Reading, Sentence-Level Reading, Grammar, Usage and Diction. |
| Maths section | Number and operations, Algebra and Functions, Geometry, Statistics, Probability and data analysis. |
| Essay (Optional) | Written for a broad audience, argue a point, express subtle views on complex subjects, use logical reasoning and evidence to support claims, examine ideas, debates, or trends in the arts and sciences, or civic, cultural, or political life & always taken from published works. |
SAT Reading test
This section has a total of 5 written passages of varying lengths. Each passage in this section contains 10-11 questions (multiple choice). It seeks to assess the ability to grasp written language and to understand the meaning. The themes for passages or writings focus primarily on general topics that do not require you to know your subject beforehand. Some passages feature additional graphs and charts to evaluate your skills. The SAT I contains three critical reading sections :- 1. Reading comprehension of 25 mins, 2. Sentence completions of 25 mins and 3. Paragraph-length critical reading 20 mins. Reading comprehension test consists of a lot of passages followed by questions to be answered using the information given in the passages. Sentence completion problems will require filling in the blanks with appropriate word. Each passage has a different theme or topic in the SAT exam syllabus. After reading the text, students must show their understanding and evaluation of each text. Below is a list of the different text types in the reading part.
1 x text from a fiction book or passage,
1-2 x passages from a topic of global interest (e.g. a famous speech or document),
1 x text from a social science document. This subject can include history, economics or psychology,
2 x science passages covering earth science, biology, chemistry, or physics.
The five passages of the Reading test include one pair of passages that you need to read together and four standalone passages. Each passage is 500-750 words long. The passages are taken from the following types of documents.
1. 1 passage from a work of sociology, social science, psychology, or economics,
2. 2 passages from scientific works in Physics, Chemistry, Biology, or Earth Science,
3. 1 literary passage from a work of fiction,
4. 1 or 2 passages from a US constitution and founding of the US.
Types of SAT Reading Test Questions
The reading test questions are based on the SAT's reading section syllabus. The solution is hidden inside the passage and has nothing to do with the level of previous knowledge acquired by the student.

Possible requirements includes :-
Establishing a connection between an informational image and the passage that goes with it.
A passage's supporting information should be provided.
Keep an eye out for information in a passage that proves the previous question's answer,
Recognising context-sensitive language. The meaning of a word must be determined in context by the students. For the "in context" portion, they must use the context cues in a paragraph to determine the meaning of a word or phrase.

Command of Evidence
Questions that test command of evidence ask you to improve the way passages develop information and ideas. For instance, you might choose an answer that sharpens an argumentative claim or adds a relevant supporting detail.
Words in Context
Some questions ask you to improve word choice. You'll need to choose the best words to use based on the text surrounding them. Your goal will be to make a passage more precise or concise, or to improve syntax, style, or tone. Analysis in history/social studies and in science. You'll be asked to read passages about topics in history, social studies and science with a critical eye and make editorial decisions that improve them.
Expression of Ideas
Some questions ask about a passage's organization and its impact. For instance, you will be asked which words or structural changes improve how well it makes its point and how well its sentences and paragraphs work together.
Types of questions in the Reading test
1. How the author uses evidence
In a few questions, you have to show that you understand how the author is using evidence to support a claim. Here, you might need to
Find evidence in a passage that best supports the answer to a previous question,
Identify the part from the passage that supports the author's point,
Find a relationship between an informational graphic and the passage it is paired with.

2. Understanding Words in Context
In some of the questions in the reading test, you need to identify the meaning of the word in context. The main context part is important: the questions ask you to use context clues in a passage to figure out which meaning of a word or phrase is being used. Other questions will ask you to decide how an author's choice of words shapes meaning, style and tone.

3. Analysis in Science and Social Studies/History
The Reading test comprises passages in the fields of science, social studies and history. You'll be asked questions that require you to draw on the reading skills needed most to succeed in those subjects.

For instance, you might read about an experiment and then see questions that ask you to:
Interpret data,
Consider implications,
Examine hypotheses.

The answers are based only on the content stated in or implied by the passage, not your prior knowledge of the subject.
Writing Test
The writing section aims to evaluate both vocabulary and grammar for the candidate. The writing component comprises four paragraphs with 10-11 questions for each passage. A candidate is supposed to detect flaws, re-word marked sentences with better options, etc. The Writing test is a multiple-choice test where you read passages and need to find and fix mistakes. The 35 minutes test comprises 4 passages and 44 multiple-choice questions. Each passage can be 400-450 words and has 11 multiple-choice questions. This section is designed to assess the candidate's understanding of grammar and vocabulary. The SAT Writing and Language section tests the candidate's knowledge about punctuations, grammar and the effective use of the language. As the SAT is a level for high school students, it tests the candidate on a few grammar concepts and its rules. The Writing section has various segments where they ask about the identification of errors, correction, style, tone, word choice, transitions between paragraphs, passage structure and passage coherence.
SAT writing has three sections,
Essay section - 25 mins,
Multiple choice sections - 25 mins and 10 mins,
SAT contains three Math sections,
Algebra and functions - 25 mins,
Geometry Statistics - 20 mins,
Probability and Data analysis - 20 mins.

Writing and Language passages can be taken from
History & Social Studies,
Humanities,
Careers,
General Science,
Arts.
Types of questions in the Writing test
The questions will be related to the passages are as follows :-
Expression of ideas that includes 24 questions usually six questions for every passage which can be further divided into three kinds,
Organization questions that focuses on placement of information of ideas and logical sequence,
Development questions that are related to main ideas, supporting details and quantitative information in graphs, charts and tables,
Effective language use questions where you need to consider style and tone, improve precision and eliminate wordiness.
The SAT questions of the Writing and Language consists of various components in them which are :-
Components such as sentence structure, verb tense, punctuation, parallel construction, grammar usage, subject-verb agreement, etc,
It should have aspects of the expression of ideas that either strengthen or weaken an argument ,
Standard English conventions used are mentioned in the passage(s) which contains word choices for the various style, text, or tones,
It should comprise structural changes to improve readability.
Communication of Ideas
There are three different types of aspirants who are asked to enhance the calibre and content of the writer's message,
The primary ideas such as thesis statements and topic sentences, quantitative data in tables, graphs, charts and supporting facts, constitute the foundation for development questions,
The placement of material and ideas their logical order as well as crafting strong introductions, transitions and conclusions are the main topics of organisation questions,
Questions about effective language use evaluate the candidate's capacity to edit the answer with clarity and reduce wordiness, combine words to achieve a certain rhetorical impact, increase flow (by emphasising one point over another) and take into account its style and tone.
The SAT writing has three sections :-
1. Essay section of 25 mins &
2. Multiple choice sections lasting 25 minutes and 10 minutes.

The SAT writing sections will assess your ability to improve writing samples, identify writing errors and produce your own clear, coherent essay.
| Content | Testing Points | Operational Question Distribution |
| --- | --- | --- |
| Craft and Structure | Words in Context, Test Structure and Purpose & Cross-text Connections. | 13-15 questions |
| Information and Ideas | Central Ideas and Details, Command of Evidence :- Textual and Quantitative & Inferences. | 11-15 questions |
| Standard English Conventions | Boundaries & Form, Structure and Sense. | 11-15 questions |
| Expression of Ideas | Rhetorical Synthesis & Transitions. | 8-12 questions |
Standard English Conventions
This is about the building blocks of writing :- sentence structure, usage and punctuation. You'll be asked to change words, clauses, sentences, and punctuation. Some topics covered include verb tense, parallel construction, subject-verb agreement and comma use.
Mathematics Test
This phase consists of two sub-sections divided into 25 minutes without a calculator and 55 minutes with a calculator. It comprises 58 questions spanning various basic mathematical principles including algebra, statistics, geometry, arithmetic, probability, data interpretation, mean, median and mode, ratios, basic trigonometry, direct and indirect variation and problem-solving. The SAT math section tests the candidate's ability to solve the arithmetic problems, using tools strategically and using the algebraic structure. The math section of the SAT 2023 syllabus has two subtypes. In type one, the candidates will be allowed to use the calculators and in the second type, candidates will be not allowed calculator. The test will consist of a total of 58 questions, out of which 20 questions will be from the no-calculator portion and the remaining 38 questions will be from the portion in which calculators are allowed. Further, the questions will be of both MCQ type and grid type (student-produced response questions). The candidate can also expect to be asked questions on probability, combination and permutation and patterns and sequences.
Measure of MATH test
Fluency :- The Math Test is a chance to show that you :- Carry out procedures flexibly, accurately, efficiently and strategically. Solve problems quickly by identifying and using the most efficient solution approaches. This might involve solving a problem by inspection, finding a shortcut, or reorganizing the information you've been given.
Conceptual Understanding :- You'll demonstrate your grasp of math concepts, operations and relations. For instance, you might be asked to make connections between properties of linear equations, their graphs and the contexts they represent.
Applications :- These real-world problems ask you to analyse a situation determine the essential elements required to solve the problem represents the problem mathematically and carry out a solution.
Calculator Use
Calculators are important tools and to succeed after high school, you'll need to know how- and when- to use them. In the Math Test - Calculator portion of the test, you'll be able to focus on complex modelling and reasoning because your calculator can save you time.

However, the calculator is, like any tool, only as smart as the person using it. The Math Test includes some questions where it's better not to use a calculator, even though you're allowed to. In these cases, students who make use of structure or their ability to reason will probably finish before students who use a calculator. The Math Test - No Calculator portion of the test makes it easier to assess your fluency in math and your understanding of some math concepts. It also tests well-learned technique and number sense.
Grid-In Questions
Although most of the questions on the Math Test are multiple choice, 22 percent are student-produced response questions, also known as grid-ins. Instead of choosing a correct answer from a list of options, you'll need to solve problems and enter your answers in the grids provided on the answer sheet.
Gridding-In Answers
Mark no more than one circle in any column.
Only answers indicated by filling in the circle will be scored (you won't receive credit for anything written in the boxes located above the circles).
It doesn't matter in which column you begin entering their answers; as long as the responses are recorded within the grid area, you'll receive credit.
The grid can hold only four decimal places and can only accommodate positive numbers and zero.
Unless a problem indicates otherwise, answers can be entered on the grid as a decimal or a fraction.
Fractions like "3/24" do not need to be reduced to their lowest terms.
All mixed numbers need to be converted to improper fractions before being recorded in the grid.
If the answer is a repeating decimal, students must grid the most accurate value the grid will accommodate.
Below is a sample of the instructions students will see on the test.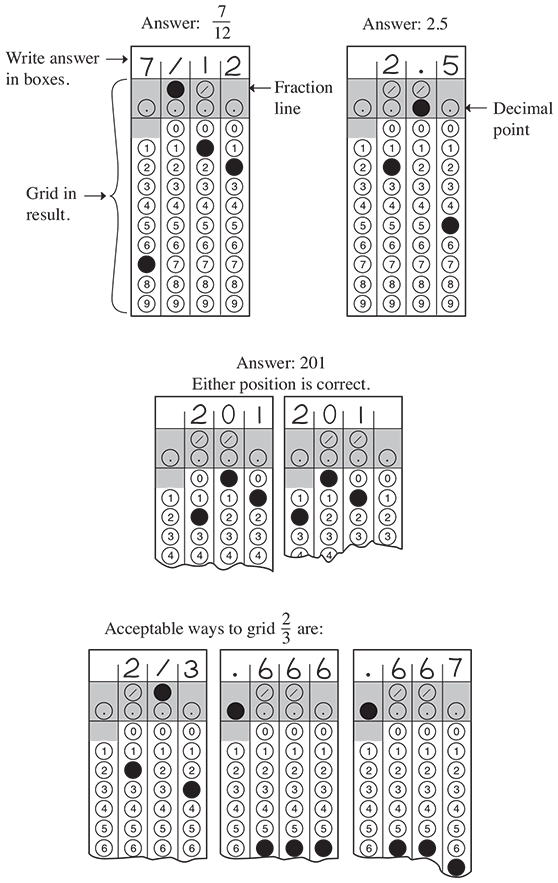 SAT Essay (Optional) - Not valid anymore
Note :- The SAT optional Essay is no longer a part of the test now.
SAT Syllabus 2023 - EBRW section
SAT EBRW, has two sections, a reading section and a writing and language section. The EBRW section score is the sum of the score of the two sections. The EBRW section has 96 questions with a time limit of 100 minutes to attempt them. The EBRW section focuses on the reading and writing abilities of candidates.

There will be a total of 52 questions from the reading section. All questions will be of multiple-choice type. Candidates will be given 65 minutes to complete the reading test.

In the reading section, the candidates will be given passages which will have some kind of information or arguments. Candidates will have to understand the text and use the information to answer the questions. The length of the passages will vary from 500 to 750 words and each passage will be followed by 10 - 11 questions.

The reading section of the SAT 2023 syllabus always includes the following items.

1 passage from a classic or contemporary work of U.S. or world literature.

1 passage or a pair of passages from either a U.S. founding document (such as an essay by James Madison) or a text in the Great Global Conversation (such as a speech by Nelson Mandela).

1 passage on a social science topic from a field such as economics, psychology, or sociology.

2 science passages (or 1 passage and 1 passage pair) that examine foundational concepts or recent developments in Earth science, biology, chemistry or physics.

2 passages accompanied by 1 or more informational graphics.

In the writing and language section, the candidates will have to improve the passages that will be given for the test. As per the syllabus of SAT 2023, candidates will have to edit, read, find mistakes and fix them. In this section, there will be a total of 44 questions with multiple choice answers. candidates will have 35 minutes to answer the questions.
New Digital SAT
In March 2023, digital SAT will be launched. The sections will now have slightly different names but the parameters to test a student's knowledge and skills will almost remain the same.

The duration of the new Digital SAT will be 2 hours 14 minutes, shorter than the present duration.
Instead of 3 hours, 64 minutes will be kept for 'Reading and Writing' and 70 minutes for 'Math'.
Verbal section's 'Reading and Writing & Language' sections will now be one single section 'Reading and Writing' section.
Every passage or pair of passages will contain shorter passages with a single related question.
The four broad parts of the questions will be Craft & Structure, Information & Ideas, Expression of Ideas, and Standard English Conventions.
Number of topics in the quantitative aptitude section will be increased.
Calculator will now be permitted throughout the Math section.
The length of word problems will be less.
A new format called 'Multistage Adaptive Testing' will be activated. As per this, students will now be presented with questions which are suit student's performance level.

The SAT will move from a pen-and-paper mode to being completely digitized from 2024 with international students being offered the Digital SAT from 2023. The exam length will be shorter the comprehensive passage reading part will be easier and the test questions will be more adaptive for the students. The pattern of SAT usually changes once over a decade and the last change took place in 2016. But the present changing patterns of SAT carry a significant change in the exam as well as for the students who will be appearing for it. The SAT is a multiple-choice exam that aims at the process of predicting "college readiness" among high school students. Many colleges and universities look at student's scores in addition to their grades, extracurricular activities, recommendation letters and essays to determine admissions decisions. Aside from a new digital format other adjustments to the SAT include a shortened test, allowance of graphing calculators throughout the math portion and faster results.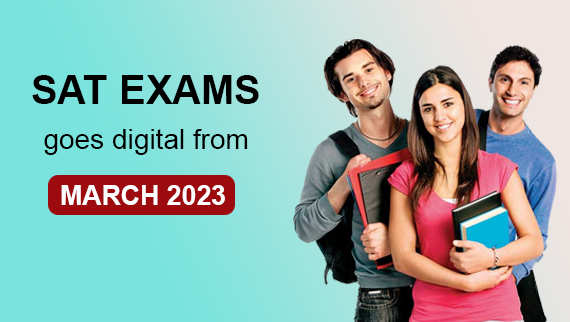 New Digital SAT 2023 Details
Digital Format :- With the major changes in the digital format, the test will be adaptive, which changes the level of question difficulty for subsequent questions based on a student's performance. Though the mode of the exam has been transformed into a digital format based, the student doesn't get the freedom to attend it from home, it will take place under the watchful eye of the proctor. The exam will be conducted over a laptop or tablet. Additionally, the digital test is designed in such a way that ensures that students won't lose their work in the event of a broadband issue or power outage and will check upon their growth as well.
Authorized use of calculators :- The ongoing current SAT exam is divided into two parts mainly a non-calculator and a portion that can be used in one section. But with the recent changes, calculators are allowed in the entire Math section. Students carry the freedom to either bring their graphing calculator or use one that's embedded into the exam, which experts say reduces test day barriers.
Duration of the exam :- Earlier the students used to get 3 hours to complete the exam, but with the major changes, the duration is cut down to 2 hours for the students as the changing pattern succumbs with that period.
Availability of scores :- The scores used to get available around two weeks, now with the new changing pattern scores will be available within days. Along with that score, reports were used to connect students with various scholarships, information of the colleges, and practice recommendations, but now the reports will connect students and open up the opportunity into workforce training and two-year college programs for their experience.

Multiple students used to appear in the same form of test with the changing pattern each student will be provided with unique test forms in SAT.

With the redesign of the pattern of SAT the exam is getting easier and along with that, the college board carries the opportunity to advertise the difference between the current SAT and the digital SAT and how it is going to be effective.

Making the exam shorter will reduce the burden of going through each of the difficult reading passages, which will be easier and the CollegeBoard will no longer penalize the students for incorrect answers. Therefore, the major change is for the 2023 digital SAT to be a more user friendly version of the test for the students in coping with the changing pattern.
SAT Subject Test Syllabus
SAT Math Syllabus
| Component | Time allotted (minutes) | Number of questions/tasks |
| --- | --- | --- |
| Math with calculator | 55 | 38 |
| Math without calculator | 25 | 20 |
Math Calculator test

Time allotted

25 min

Total no. of questions

20

Multiple-choice questions

15

Grid-in questions

5
Math No-Calculator test

Time allotted

55 min

Total no. of questions

38

Multiple-choice questions

30

Grid-in questions

8
Mathematics subject test is divided into 2 levels that are:
Mathematics Level 1

Syllabus

No. Of questions

Duration

Score Points

Number and Operations Algebra and functions Geometry and measurement :- Plane Euclidean, coordinate, three-dimensional and trigonometry Data analysis, statistics and probability.

50 (multiple choice questions)

60 Minutes

200-800
Mathematics Level 2

Syllabus

No. Of questions

Duration

Score Points

Number and operations Algebra and functions Geometry and measurement :- coordinate, three-dimensional and trigonometry Data analysis, statistics and probability.

50 (multiple choice questions)

60 Minutes

200-800
Types of questions in the Math test
The Math test is divided broadly into four categories.
| Categories | Number of questions |
| --- | --- |
| Heart of Algebra | 19 |
| Problem Solving and Data Analysis | 17 |
| Passport to Advanced Math | 16 |
| Additional Topics in Math | 6 |
| Content | Testing Points | Operational Question Distribution |
| --- | --- | --- |
| Algebra | Linear equations in one variable, Linear equations in two variables, Linear functions, Systems of two linear equations in two variables & Linear inequalities in one or two variables. | 13-15 questions |
| Advanced Math | Equivalent expressions, Nonlinear equations in one variable and systems of equations in two variables & Nonlinear functions. | 13-15 questions |
| Problem-Solving and Data Analysiss | Ratios, rates, proportional relationships, and units, Percentages, One-variable data: distributions and measures of center and spread, Two-variable data: models and scatter plots, Probability and conditional probability, Inference from sample statistics and margin of error & Evaluating statistical claims: observational studies and experiments. | 5-7 questions |
| Geometry and Trigonometry | Area and volume, Lines, angles and triangles, Right triangles and trigonometry & Circles. | 5-7 questions |
Difference between SAT Mathematics Level 1 and Level 2
Aspirants who are confused between the two must go for the one in which they can score more. Those aspirants who are good in trigonometry or elementary functions (precalculus) or both should go for SAT 2 Math whereas those who want to score high points and are not so familiar with topics covered in level 2 should opt for SAT 1 Math. It is important to factor in the requirement of the candidate's University and Programme of choice.
Science Subject Tests
Science subject test is divided into the following mentioned subjects:
SAT Biology Syllabus
SAT Biology Syllabus is divided into Biology-M (Molecular) and Biology-E (Ecology) :- Biology-M Syllabus comprises energy flow, populations and biological communities. On the other hand, The DAT Biology-E syllabus consists of cellular structure, respiration and photosynthesis. The SAT biology Exam helps students get admission to top Universities of Medical Sciences.
Some of the major points from the SAT Biology Syllabus are :-
There is a huge section in the SAT Biology syllabus for genetics, meiosis, inheritance patterns and molecular genetics,
There is a chapter on organism biology (focus on animals and plants behaviour) in the syllabus,
The SAT Biology syllabus has topics like evolution, patterns of evolution, metric system, biochemistry, diversity of organisms and speciation.
Ecological Biology / Molecular Biology

Syllabus

No. Of questions

Duration

Score Points

Cellular and molecular biology, Genetics, Organismal biology & Evolution and diversity.

80 (multiple choice questions)

60 Minutes

200-800
There are 60 MCQ's that are common to both Biology-M and Biology-E.
20 specialized MCQ's for either subject.
Topics
Approx % Test E
Approx % Test M

Cell and Molecular Biology
Cell structure and organization, mitosis, photosynthesis, cellular respiration, enzymes, biosynthesis, biological chemistry.

12%

25%

Ecology
Energy flow, nutrient cycles, populations, communities, ecosystems, biomes, biodiversity, effects of human intervention.

25%

12%

Genetics
Meiosis, Mendelian genetics, inheritance patterns, molecular genetics

12%

25%

Organismal Biology
Structure, function, and development of organisms (with emphasis on plants and animals), animal behavior.

25%

25%

Evolution and Diversity
Origin of life, evidence of evolution, patterns of evolution, natural selection, speciation, classification and diversity of organisms.

25%

12%
SAT Chemistry Syllabus
The SAT Chemistry Syllabus is a perfect blend of theoretical knowledge and practical applications. The SAT Chemistry Syllabus includes studying the Periodic table, observing results and learning about the experimentations. Moreover, the Office Board conducts the SAT Chemistry Exams in June, August, November and December and, the score ranges from 200-800.
Some of the major points from the SAT Chemistry Syllabus is :-
The first and foremost section in the SAT Chemistry syllabus is the structure of the matter. It constitutes atomic and molecular structure, bonding, gases, liquids & solids,
The second section in the Chemistry syllabus is the states of the matter. It comprises topics like the solution, acids and bases,
Reaction types are the third section consisting of oxidation, reduction, precipitation, and mole concepts,
Topics like chemical equations, equilibrium systems, conservation of energy, ions, and compounds are the last section of the syllabus.
Chemistry

Syllabus

No. Of questions

Duration

Score Points

Structure of matter, Reaction types, Stoichiometry, Equilibrium and reaction rates, Thermochemistry, Laboratory, Descriptive chemistry & States of matter.

85 (multiple choice questions)

60 Minutes

200-800
SAT Chemistry Test: Overview
In the Chemistry SAT subject test (also called SAT 2 Chemistry Test), the students were tested on various fundamental concepts of chemistry. In this exam, certain topics were given more weightage, and focussing on these topics helped students perform better. Here are the areas covered as part of the SAT Chemistry Syllabus :-
Structure of Matter :- This topic had the maximum weightage (25%) among all the topics. It was further classified as atomic structure, molecular structure, and chemical bonding. The student had to prepare topics such as atomic structure, quantum numbers, energy, electron configurations, Lewis structure, ionic and covalent bond, metallic bonds and intermolecular forces.
States of Matter :- States of matter mainly included gaseous state, the related gas laws, liquids and solids, and solutions. These topics covered the kinetic theory of gases, volumes, intermolecular forces in liquids/solids, phase changes, and diagrams. A student thorough in this topic was able to get 16% of the total weightage of marks easily.
Reactions :- Though it was a very fundamental topic, it contributed to 14% of the total score. The reaction types include acids and bases, oxidation and reduction, the study of reaction rates, solubility, precipitation, pH values, and so on. Students used to prepare for this topic from their elementary science syllabus.
Stoichiometry :- Stoichiometry is one of the most important concepts in advanced chemistry. A basic understanding of stoichiometry is usually given in high school. Students who appeared for the SAT Chemistry test had to be aware of various stoichiometry concepts such as mole concept, Avogadro's number, empirical formula and balancing chemical equations.
Equilibrium :- Chemistry is all about equilibrium. So getting tested in the concept of equilibrium is unavoidable in any chemistry test. While preparing for this section, students had to be thorough with concepts like equilibrium constants and expressions, equilibrium reactions, reaction rates, potential energy diagrams, etc. These concepts covered up to 5% of the total score.
Thermochemistry :- Any student intending to study chemistry must be familiar with the concepts of thermochemistry. Topics such as enthalpy, entropy, laws of thermodynamics, conservation of energy, heat transfer, heating, refrigeration & etc. are usually part of this section.
Laboratory :- The laboratory part covered 8% of the total weightage. This involved practical sessions in a lab where students had to perform salt analysis, solubility test, filtration analysis, distillation and so on. The practical tests were easier than the theoretical concepts.

SAT Physics Syllabus
The SAT Physics Syllabus covers waves, thermodynamics, heat, electricity, water, and modern physics. The syllabus has multiple-choice questions that help the candidate prepare for the SAT Physics exam. It intends to assess the applicant's ability to understand the principles of physics. Major areas in the SAT Physics syllabus are mechanics, electricity, waves, etc.
Some of the major points from the SAT Physics Syllabus are :-
The first section in the SAT Physics Syllabus is of mechanics, waves and optics,
Topics like electricity, magnetism, heat and thermodynamics also comprise 6-24% in the course,
Apart from this, modern physics and miscellaneous topics have a 4-11% weightage in the curriculum.
Physics

Syllabus

No. Of questions

Duration

Score Points

Mechanics, Electricity and magnetism, Heat and thermodynamics, Modern physics, Waves and optics & Miscellaneous.

75 (multiple choice questions)

60 Minutes

200-800
Detail Breakdown of SAT Physics Syllabus
Mechanics (36% to 42%) :- Kinematics includes concepts such as velocity, acceleration, one-dimensional motion, and projectile motion. Force, Newton's laws, statics, and friction are all examples of dynamics. Potential and kinetic energy, work, power, impulse, and conservation laws are all examples of energy and momentum. Uniform circular motion and centripetal force are examples of circular motion. Simple harmonic motions, such as the pendulum and mass on a spring, are examples of simple harmonic motion. The law of gravitation, orbits and Kepler's laws are all examples of gravity.

Electromagnetism and electricity (18% to 24%) :- Coulomb's law, induced charge, field and potential of groups of point charges, and charged particles in electric fields are examples of electric fields, forces, and potentials. Capacitance, such as parallel-plate capacitors, and charging and discharging behaviour that varies over time. Resistors, light bulbs, series and parallel networks, Ohm's Law, and Joule's Law are examples of circuit elements and DC circuits. Permanent magnets, current-induced fields, particles in magnetic fields, Faraday's Law, and Lenz's Law are all examples of magnetism.

Waves and optics (15% to 19%) :- Wave speed, frequency, wavelength, superposition, standing wave diffraction, and the Doppler effect are all examples of general wave qualities. Snell's Law and changes in wavelength and speed are examples of reflection and refraction. Image production utilising pinholes, mirrors, and lenses is an example of ray optics. Single-slit diffraction, double-slit interference, polarisation, and colour are examples of physical optics.

Heat and Thermodynamics (6% to 11%) :- Temperature, heat transport, specific and latent heats, and thermal expansion are all thermal properties. The first and second laws of thermodynamics, internal energy, entropy, and heat engine efficiency are examples of thermodynamic laws.

Physicists in the twenty-first century (6% to 11%) :- Photons and the photoelectric effect are examples of quantum phenomena. Atomic models, such as the Rutherford and Bohr models, atomic energy levels, and atomic spectra are all examples of atomic concepts. Radioactivity, nuclear processes, and fundamental particles are all examples of nuclear and particle physics. Time dilation, length contraction, and mass-energy equivalence are all examples of relativity.

Miscellaneous (4% to 9%) :- General issues, such as physics history and questions, across multiple important themes. Graphical analysis, measurement, and math skills are examples of analytical skills. Astrophysics, superconductivity, and chaos theory are examples of modern physics.
SAT English Syllabus
SAT English Syllabus mainly revolves around comprehension and editing of the passages, proses and poetry. The SAT English Syllabus has topics from American literature, English literature and other English literature (Canada, Ireland). The syllabus includes analysing the themes of the passage and figuring out connations of words.

Some of the major points in the SAT English Syllabus are :-
The common topic in the SAT English Syllabus is to match the following where the applicant chose the correct ones and match them together,
The other question in the Syllabus is related to concentration on specific words like least, except or no to check the comprehension power of the applicant,
The SAT English Syllabus also comprises of Prose and poetry where the applicant has to evaluate it in terms of tone, function, speaker and audience,
The other topics are storytelling, explaining a research/study and making a dialogue/argument.
English

Syllabus

Question Sources

No. Of questions

Duration

Score Points

American literature & English literature

Prose passage primary excerpts from fiction Essays Poetry Drama

60 (multiple choice questions)

60 Minutes

200-800
Digital SAT English Syllabus
Syllabus for Digital SAT English Critical Reading :-
Reading and understanding passages :- As the section concentrates on your comprehension skills, it is important that you learn to read the short and long passages strategically focusing on the facts.

Improving SAT vocabulary :- A good vocabulary becomes an asset when taking the Digital SAT. However, there can be no limit to the words that you can learn. That said, there are certain words that appear on the test. Most vocabulary lists include the SAT words in their list. It is important that you learn the SAT words but do not limit yourself to just them. Learn new words by reading newspapers, journals, etc, and improve your vocabulary.
Syllabus for SAT English Writing and Language:
Grammar Practice :- The writing section also tests your knowledge and understanding of words and their usage. The main questions that you may encounter in the writing section are:
Finding errors in sentences,
Improving or correcting sentences,
Improving or correcting paragraphs.
SAT Language Syllabus Test
The language subject test is supposed to demonstrate a student's understanding of a particular language. SAT language subject tests are taken for the following mentioned languages :- spanish, spanish with listening, french, french with listening, chinese, chinese with listening, italian, german, german with listening, modern hebrew, latin, japanese, japanese with listening, korean & korean with listening. Candidates appearing for the SAT language test is required to highlight their understanding of the particular language through the writing & speaking methods. The languages for which candidates can appear for the exam are mentioned below. Candidates appearing for the listening exam will be allowed 20 minutes for listening questions and 40 minutes for reading questions out of the total 60 minutes duration.
Languages

No. Of questions

Duration

Score Points

85 (multiple choice questions)

60 Minutes

200-800
Writing and language question types :- This part of the exam has two different question types looking at both the content and the structure of the text. These are follows :-
Expression of the writer's ideas :- Students respond to questions about how strong and well-argued the writer's message is. Through these questions you identify how good the author's structure, language and evidence is.
Use of grammar and punctuation :- Here, you identify any mistakes in the text. The mistakes could be around sentence structure, incomplete sentences or incorrect punctuation use.
SAT World History Syllabus
The History subject test is divided into the following:
World History

Syllabus

No. Of questions

Duration

Score Points

Global or comparative, Europe, Africa, Southwest Asia, South and Southeast Asia, East Asia & America.

95 (multiple choice questions)

60 Minutes

200-800
US History

Syllabus

No. Of questions

Duration

Score Points

Political history, Economic history, Social history, Intellectual and cultural history & Foreign policy.

90 (multiple choice questions)

60 Minutes

200-800